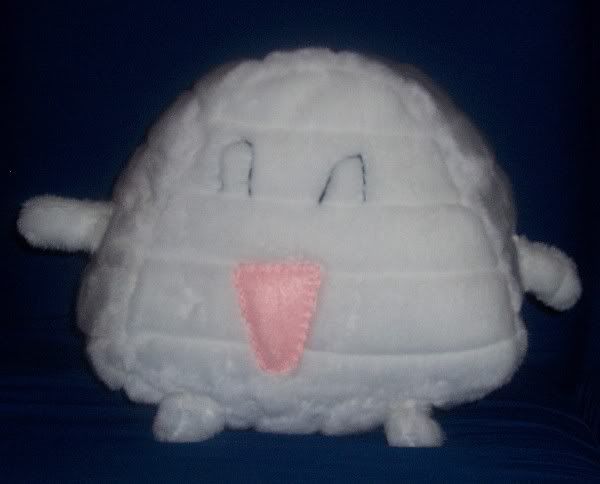 He's about 12 inches tall and 10 inches thick...like a big ole pillow with arms and legs.
Breeze is ALL into anime these days. I made this after she found it on an anime website and "awwed" over it like 16yo's do. She's in a swap over on craftster, so in her research, she discovered "Riceball".
Yeah, imagine my confused expression when she said, "Mom, will you make me Riceball from Fruits Basket?" Being the completely uncool old mom, I was thinking, "Do you have a recipe?" You know that look German Shepherds give you with the head cocked to one side, completely bewildered? Yeah, that was the expression on my face.
So she showed me the pic. She made a small one for her swap partner, and this was leftover furry, uber-soft faux fur I had laying around in my stash. Do you ever wonder, "When and what in the hell did I buy *that* for??" Yeah, one of those things.
As I was finishing him up at 2:30 Sunday morning, I couldn't stop laughing at it. I got his face off-center, so I told Breeze that he either fell off the table and it all smooshed to one side or is eating something REALLY sour. Either way, I'm loving how he turned out. I fought the anime thing as long as I could, but when your kid is into something, what can you do, ya know?