Here's what I've been working on lately. Even though summer is approaching, I started on "Dashing" from knitty.com. Using Lion Brand's Wool-Ease, I cast on and began. I had considered several different patterns and after making each daughter a pair, I decided on this pattern for mine. Yes, it's a man's pattern, but big woo.
So anyway, about 2/3 of the way thru the first glove, I found a pattern I like better. *sigh* Ain't that just my luck? So I finished the left one, and I'll make the right one at some point before winter comes back.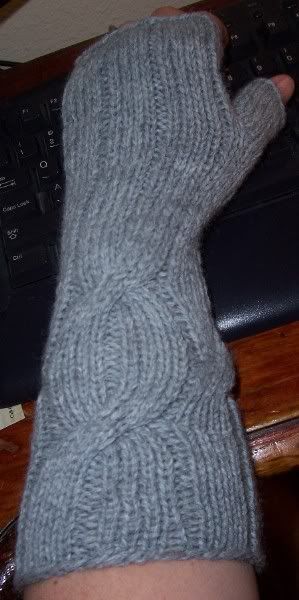 I just love the amount of confidence my family has in me. They're convinced that NOTHING is too much for me. I can't seem to convince them that I simply am not Superwoman. Of course my stubbornness and "need for achievement" (as my college Psych professor tagged me) don't help matters there. I'm rambling, I know.
Anyway, in my copy of Stitch 'n Bitch Nation, Breeze spotted "The Bead Goes On" beaded wrist cuffs. After *finally* tracking down size 0 (that's ZERO) needles and stringing 172 beads onto this tiny crochet thread I was given, I began. Holy cow! It's like knitting with toothpicks, except toothpicks have a bigger diameter! Those needles are so tiny that I was afraid they were going to snap. They didn't, all the beads have been knitted into place according to the chart, and this is how far I've gotten. I lack about another inch or so, and after seaming it together, it'll be done. I have to admit that it is pretty cute.
And last, but certainly not least, a layout I finished last night. The paper and rub-ons came in my NYOBC kit put out by Pinecone Press. At first I didn't think I'd love this paper (Fancy Pants) and shades of Bazzill, but I just adore this LO! It's titled, "4ever, for Always, and No Matter What". I couldn't seem to get the colors just right, but you get the idea. I *must* have some more of those rubons! In the bottom right corner, I attached a minibook. (Oh, and that color pic of us there on the left...IRL, he does have TWO eyebrows that are even. Sometimes I despise my scanner.)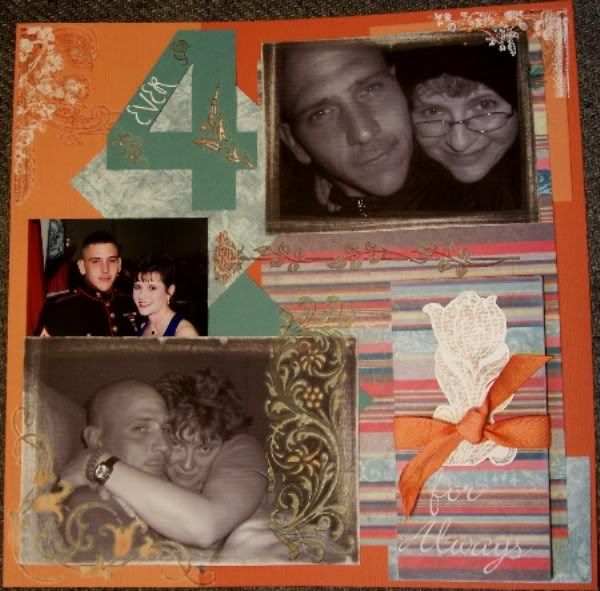 This is the cover and inside of it.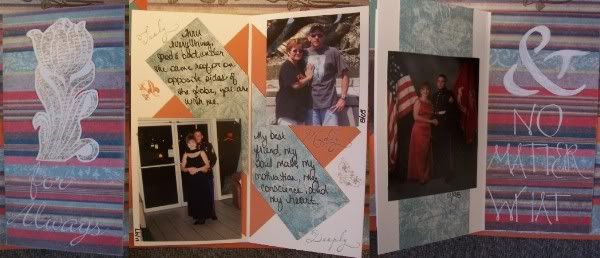 The journaling reads, "Thru everything, good and bad, under the same roof or on opposite sides of the globe, you are with me. My best friend, my soul mate, my motivation, my conscience, and my heart."