When I decided to teach myself to knit, it never occurred to me that I'd eventually have pointy sticks all over the place. At first I altered a keg can to store them in. The pic for it is in my very first post on this blog back in October. The can didn't work that great back then, but it was okay considering I only had straight needles. Then I added dpn's, crochet hooks, and circular needles to the mix. Now what? I did the "these go here, those go there, and those go in that thing way over there across the room" thing for a while, but I just couldn't stand it anymore.

Well, one day not long ago, I ran across these placemats in the dollar store. Ooh, green, purple, and tropical-looking! Therefore, I must have them, and I'll figure out what to do with them later. So this is what I came up with. I'm in need of dowel and a better shade of ribbon for hanging them, but this works for now. I *refuse* to drive 20 miles each way for a dowel rod and a spool of ribbon.
For my straight needles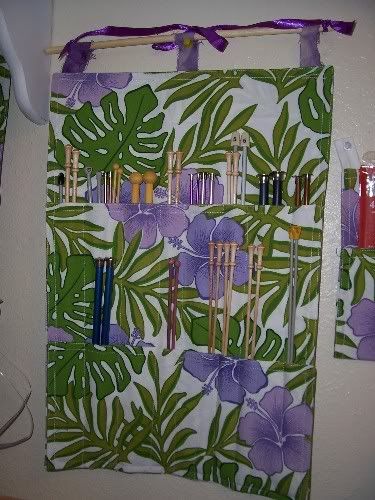 I thought about making one of those roll-up kind of things, but then I thought, "How often am I going to go somewhere and take ALL of my needles?" This works better for me.
For my double-pointed and crochet hooks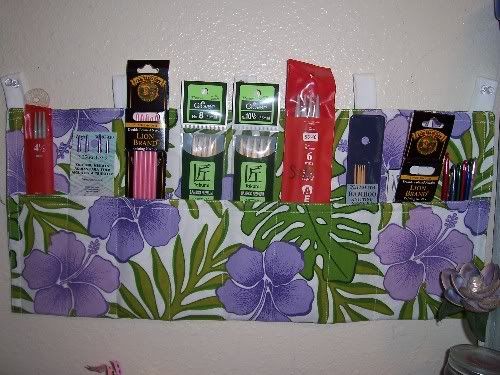 And for my circular needles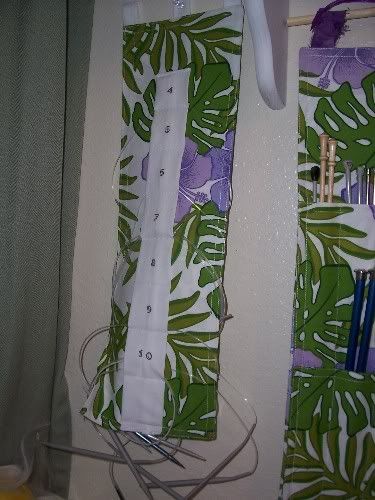 I got this idea from Debbie Stoller's first Stitch 'n Bitch book. Is there really a GOOD way to store these things?? I mean, yeah, you could leave them in the packages they come in, but I inherited a bunch that didn't have the packages anymore. And how do you store all of the packages? I figure this lets 'em kinda hang out and not be so curled up. That will make knitting with them much easier.
So that's what I've been up to today. How 'bout you?