I have a thing for bags. Purses, totes, you name it. I just can't get enough of 'em. I had some old placemats laying around that are cool in their own way, but not as placemats. Because I'm a packrat who "might make something out of that", I couldn't bear to throw them out. I decided that they were just about the right size for a tote bag for WIP's, magazines, etc. on those days when you're out and about. After a little hacking on a couple for the sides and bottom, a little sewing putting it together, a lot of knitting (because I'm the world's slowest knitter), and attaching a couple of buttons, placemats become a tote! To keep the handle from stretching out, I knitted it as a tube and ran twill tape the full length inside.
Ignore the scary mess in the closet back there. Once my pegboard is done, that will all become neat. That's another post, though.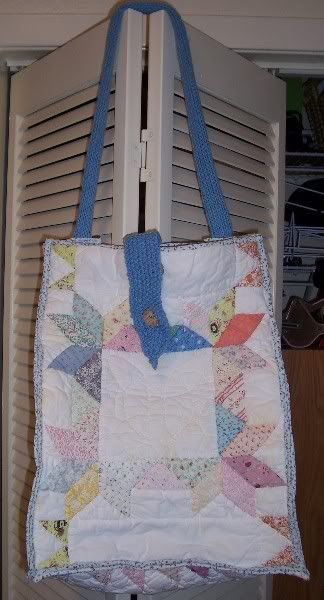 I attached two buttons so that it could be closed no matter how full it was.