A new lady moved to town and added some classes to the schedule at the store. I looked at the samples and HAD to know how she did it. I did some research online and discovered that here in the States, it's a rare hobby. I signed up for the classes and just completed the 2nd one tonight. I LOVE the end result!
After the first class, a friend and I went online to order starter kits, and found that THE ONLY PLACE in the COUNTRY to order was
http://www.ecstasycrafts.com/
. So their website is great, and their shipping was quick. We ordered on Tuesday afternoon, and our order was delivered on Saturday.
So anyway, check out what I made!
This was from the first class I attended.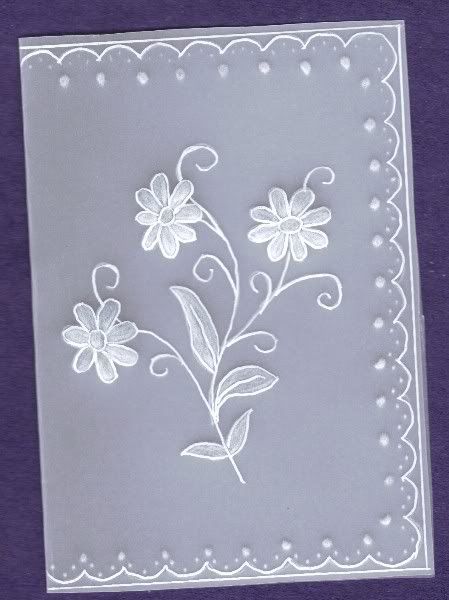 And I made this bookmark at tonight's class. Ignore the funky blue background. My scanner's stuck on stupey right now, so I had to have a dark color behind the images, and that was the closest thing in reach.

If you're groovin', you can check out http://www.pergamano.com/ and their gallery. There are some gorgeous things posted over there!