Remember up until a few months ago, I was one of those, "I don't make jewelry. I don't like it" people? Well, I'll have my crow served warm, please.
I took a class from Michelle, my sister at heart, last Thursday. After a couple of broken wires and a broken pendant, I finally succeeded. The pic doesn't do this piece justice, and I'm so proud of it! I'm so glad I took the class, even though she did squawk at me for *paying* for her to teach me something. Now I know more of what the hell I'm doing when it comes to working with wire.
Thank you, Michelle! Love ya, Hon!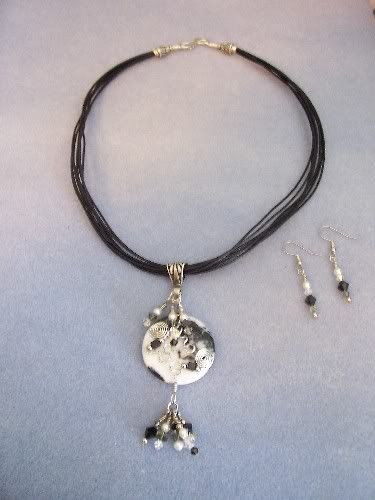 The pendant is a black and white stone, and I used jet, smoke, and crystal Swarovski crystals, silver beads, black glass cubes, and pearls. The necklace is strands of black leather.
Here's a couple of close-ups of the pendant.